Mental Capacity Act 2005: Post-legislative Scrutiny
HL 139, Report of Session 2013-14
Author:

House of Lords - Select Committee on the Mental Capacity Act 2005

Publisher:

TSO (The Stationery Office)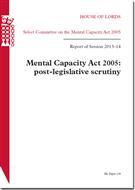 Add to Basket
'Mental Capacity Act 2005: Post-legislative Scrutiny (HL 139)' examines what can be done to ensure that social workers, healthcare professionals and others involved in the care of vulnerable adults, are aware of the Mental Capacity Act, so that it can be implemented correctly.
The Committee wants to see a change in attitudes and practice across the health and social care sector that reflects the empowering ethos of the Act. To achieve this they recommend that overall responsibility for the Act be given to an independent body, whose task will be to oversee, monitor and drive forward implementation.
The report also expresses concerns regarding the Deprivation of Liberty Safeguards. The intention of the safeguards is to provide legal protection for people who are being deprived of their liberty for their own safety. The evidence suggests that tens of thousands of people are being deprived of their liberty without the protection of the law, and without the protection that Parliament intended. The Government needs to go back to the drawing board to draft replacement provisions that are in keeping with the style and ethos of the Mental Capacity Act.
Further recommendations include that:
Government reconsiders the provision of non-means tested legal aid to those who lack capacity;

Local Authorities use their discretionary powers to appoint Independent Mental Capacity Advocates more widely;

Government addresses the poor levels of awareness and understanding of Lasting Powers of Attorney, and advance decisions to refuse treatment; and

Government review the criminal law provision for ill-treatment or neglect of a person lacking capacity, to ensure that it is fit for purpose.
Find similar publications here: