Draft Care And Support Bill
HL 143, HC 822, Report, Session 2012-13 - Report, Together with Formal Minutes
Author:

House of Lords, House of Commons - Joint Committee on the Draft Care and Support Bill

Publisher:

TSO (The Stationery Office)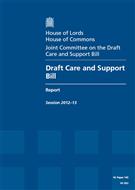 Add to Basket
According to the report 'Draft Care And Support Bill (HL 143, HC 822)', the Government has not fully thought through the implications of its social care reforms and may leave local authorities open to a deluge of disputes and legal challenges.
The Joint Committee on the Draft Care and Support Bill warn that without greater integration with health and housing, and a focus on prevention and early intervention, the care and support system will be unsustainable.
The Committee also calls for a nationwide campaign to educate people about the need to pay for their own care, saying that adult care and support are poorly understood.
Key recommendations include:
a new power to mandate joint budgets and commissioning across health, care and housing, such as support for the frail elderly, making it simpler for NHS and local Councils to pool budgets;

fast-tracking of care and support assessments for terminally-ill people;

new legal rights for young carers to protect them from inappropriate caring responsibilities and ensure they get the support they need;

an obligation on the Secretary of State to take into account the draft Bill's well-being principle when designing and setting a national eligibility threshold; and

independent resolution of disputes over decisions about care and support - and costs that count towards the cap - through a Care and Support Tribunal.
In addition, the Committee makes a number of recommendations to improve health research and the education and training of NHS workers.
The Committee also warns that restricting support and care to those with the highest levels of need will simply shunt costs into acute NHS care, and undermines interventions to prevent and postpone the need for formal care and support.