Police and Criminal Evidence Act 1984 (PACE) - CODE C - Revised 2013
Revised Code of Practice for the Detention, Treatment and Questioning of Persons by Police Officers
Author:

Home Office

Publisher:

TSO (The Stationery Office)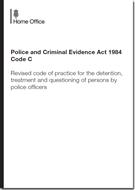 Add to Basket
The Police and Criminal Evidence Act (PACE) and its Codes of Practice are a vital part of the legislative framework that lays out police powers for combating crime. PACE Code C sets out the requirements for the detention, treatment and questioning of suspects not related to terrorism in police custody by police officers.
Many of the changes to Code C are mirrored (with modifications as necessary) in Code H in order to ensure consistency. Particular changes include:
Allowing the custody officer to direct custody staff to carry out certain actions in relation to a detainee's rights and entitlements, need for medical treatment and the risk assessment process

Supporting Code G (Arrest) concerning 'voluntary' interviews by police and explaining the arrangements for obtaining free legal advice if a police interview takes place

Allowing those in whose welfare the detainee has an interest to visit

Updating the arrangements for access to legal advice and safeguards for detainees who change their mind about wanting advice

Simplifying arrangements for mandatory notification of the arrest of foreign nationals and asylum claims

Updated provisions on the self-administration of controlled drugs and the application of safeguards for detainees suspected of being under the influence of drink or drugs or both

Post-charge questioning and detention in terrorism cases, for the purposes of which a new Code of Practice for the Video Recording with Sound of Interviews of Persons to the Terrorism Act 2000, ISBN 9780113413539 also comes into operation
This Code of Practice must be readily available at all police stations for consultation by police officers, police staff, detained persons and members of the public and applies to people in police detention on or after 27 October 2013.
Find similar publications here: