Equality Act 2010: Equal Pay Statutory Code of Practice
Author:

Equality and Human Rights Commission

Publisher:

TSO (The Stationery Office)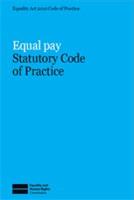 Add to Basket
The Equality Act 2010 gives women (and men) a right to equal pay for equal work. It replaces previous legislation, including the Equal Pay Act 1970 and the Sex Discrimination Act 1975, and the equality provisions in the Pensions Act 1995.
The provisions explained in this 'Equal Pay Statutory Code of Practice' are those set out in the Act under the heading 'Equality of Terms'. They apply to pay and all the other terms of a person's contract of employment, but this Code uses the language of 'equal pay' in the interests of both continuity and brevity.
Although this Code relates to equal pay between women and men, pay systems may be open to challenge on grounds of race, age or other protected characteristics under the Equality Act 2010.
This is a Statutory Code which means it has been approved by the Secretary of State and laid before Parliament. It does not impose legal obligations, nor is it an authoritative statement of the law; only the tribunals and the courts can provide such authority. However, the Code can be used in evidence in legal proceedings brought under the Act. Tribunals and courts must take into account any part of the Code that appears to them relevant to any questions arising in proceedings.
There are separate codes covering Employment and Services, public functions and associations, listed below.

Find similar publications here:

Show all Subjects & Categories