Implementation of the Right of Disabled People to Independent Living
HL 257 & HC 1074, Twenty-third Report of Session 2010-12 - Report, Together with Formal Minutes
Author:

House of Lords & House of Commons - Joint Committee on Human Rights

Publisher:

TSO (The Stationery Office)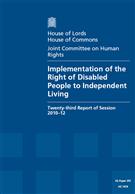 Add to Basket
'Implementation of the Right of Disabled People to Independent Living (HL 257 & HC 1074)' discusses the implementation of the right of disabled people to independent living in the context of the UN Convention on the Rights of Persons with Disabilities (UNCRPD) which was ratified by the UK in 2009.
The Committees draw attention to a number of significant human rights issues, including:
the need for freestanding legislation to protect the right to independent living in UK law;

the effect of current reforms to benefits and services on the ability of disabled people to enjoy independent living;

the role played by the UNCRPD in policy development and decision-making at all levels of government;

the use of equality impact assessments;

the effects of devolution on implementation of the UNCRPD; and

hate crime.
The right to independent living does not exist as a freestanding right in UK law. Although it is protected and promoted to some extent by a matrix of rights, the Committee believes that this is not enough. It argues that the Government and other interested parties should immediately assess the need for, and feasibility of, legislation to establish independent living as a freestanding right.
The Committee finds that reforms to benefits and services risk leaving disabled people without the support they need to live independently. It also finds that the Government had not conducted an assessment of the cumulative impact of current reforms on disabled people. This report urges them to do so, and to report on the extent to which these reforms are enabling them and local authorities to comply with their obligations under the UNCRPD.

Find similar publications here:

Show all Subjects & Categories