Behaviour Change
HL 179, Second Report of Session 2010-12
Author:

House of Lords - Science and Technology Select Committee

Publisher:

TSO (The Stationery Office)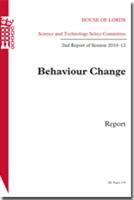 Add to Basket
'Behaviour Change (HL 179)' reports the Science and Technology Select Committee's finding that the currently influential book 'Nudge' by Richard Thaler is unlikely to be effective used in isolation.
'Nudge' - by Richard Thaler and Cass Sunstein - advocates a range of non-regulatory interventions that seek to influence behaviour by altering the context or environment in which people choose, and seeks to influence behaviour in ways which people often do not notice.
This approach differs from more traditional government attempts to change behaviour, which have either used regulatory interventions or relied on overt persuasion.
The current Government have taken a considerable interest in the use of 'nudge interventions'. One aim of this inquiry, therefore, is to assess the evidence-base for the effectiveness of this approach.
However it also examines evidence for the effectiveness of other types of policy intervention and asks whether the Government make good use of the full range of available evidence.
The Committee's central finding is that non-regulatory measures used in isolation, including 'nudges', are less likely to be effective.
Effective policies often use a range of interventions. A lot more could, and should, be done to improve the evaluation of interventions.
Specific recommendations include:
The Government must invest in gathering more evidence about what measures work to influence population behaviour change.

An independent Chief Social Scientist should be appointed to provide government with robust and independent scientific advice.

The Government should take steps to implement a traffic light system of nutritional labelling on all food packaging.

Related titles:
Find similar publications here:

Show all Subjects & Categories