The Barnett Formula
HL Paper 139, 1st Report of Session 2008-09 - Report with Evidence
Author:

House of Lords - Select Committee on the Barnett Formula

Publisher:

TSO (The Stationery Office)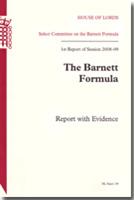 Add to Basket
The Barnett Formula is the mechanism used by the UK Government to allocate more than half of total public expenditure in Scotland, Wales and Northern Ireland. The Formula has been used for the last thirty years to determine the annual increase in allocation (the increment). Each year these increments are added on to the previous year's allocation (the baseline) to create what is now a significant block grant of funds.
The Formula accounted for almost £49 billion of public spending in 2007-08. Despite the political changes within the UK, the Formula has continued to be used and has never been reviewed or revised.
The Committee's conclusions and recommendations include:
The Formula was only intended to be a short term measure and should no longer be.

A UK Funding Commission should be established to assess relative need in the UK's regions and advise on a new method of distributing funding to reflect those needs.

The baseline has never been reviewed to take account of changing population patterns; this means that the grant provides funds without reference to the needs of each of the countries and regions of the UK.

There should be a link between the grant of funds made to each of the administrations and their actual per capita funding needs.

The Committee's research suggests that England and Scotland have markedly lower overall needs per head of population than Wales and Northern Ireland.

The Committee suggest that the UK Funding Commission undertake an assessment of relative need now and in the future and that they undertake periodic reviews as well as publish annual data about the allocation of funding between the devolved administrations.
Find similar publications here: