The Management of Adult Diabetes Services in the NHS: Department of Health
HC 21, Report by the Comptroller and Auditor General, Session 2012-13
Author:

National Audit Office (NAO)

Publisher:

TSO (The Stationery Office)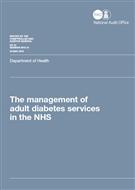 Add to Basket
In 2009-10 there were an estimated 3.1 million adults with diabetes in England and this is expected to increase by 23% to 3.8 million by 2020. The Department estimates that it has increased its spending on diabetes services from £0.9 billion in 2006-07 to £1.3billion in 2009-10, but the NAO considers these figures to be a substantial underestimate according to the report 'The Management of Adult Services Diabetes Services in the NHS (HC 21)'.
The report suggests that National Health Service (NHS) spending on diabetes services in 2009-10 was at least £3.9 billion, or around 4% of the NHS budget. The Department's data show that only half of people with diabetes received the recommended standards of care in 2009-10, even though the proportion has increased from 36% in 2006-07.
The standards originally set in 2001 state that people with diabetes should receive nine basic care processes each year, but no Primary Care Trust (PCT) achieved the aim of delivering all nine basic care processes to all people, with the highest PCT scoring 69% and the lowest just 6%.
Fewer than one in five people with diabetes are achieving the recommended standards for controlling glucose, blood pressure and cholesterol levels. As well as diminishing quality of life, diabetic complications place a significant burden on the NHS. It is estimated that up to 24,000 people die each year from avoidable causes related to their diabetes.
There is significant variation in the quality of care received by people with diabetes which cannot be satisfactorily explained. Through better management of people with diabetes, the NHS could save £170 million a year.
Find similar publications here: