Mobile Technology in Policing: Home Office and National Policing Improvement Agency
HC 1765, Report by the Comptroller and Auditor General, Session 2010-12
Author:

National Audit Office (NAO)

Publisher:

TSO (The Stationery Office)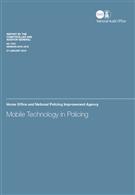 Add to Basket
'Mobile Technology in Policing: Home Office and National Policing Improvement Agency (HC 1765)' concludes that the benefits of a programme to equip frontline police officers with mobile devices, has not achieved value for money from its £80 million of expenditure.
While mobile devices have enabled officers in many forces to spend more time out of their stations, cash savings have been limited and only one in five forces have used the devices effectively to improve their business and operational processes.
The business case for the Mobile Information Programme, funded by the Home Office and managed by the National Policing Improvement Agency, focused upon the swift delivery of mobile devices with 41,000 devices being rolled out ahead of schedule by December 2010.
Although in reality the Agency cannot mandate forces and has little control over each force's investment decision, not enough consideration was given to how forces would use the mobile technology, how much local spending was required or how realistic the announced deadlines were. While the Programme did not explicitly set out to deliver cashable savings, these should have followed from objectives to reduce bureaucracy, increase efficiency and contribute to better policing.
Of the 32 forces responding to an NAO survey ten claimed relatively minor cashable savings with the remaining respondents citing drawbacks. However some forces are predicting greater savings in the future.

Related titles:
Find similar publications here:

Show all Subjects & Categories