The Estate Strategy of the Police Service of Northern Ireland
HC 101, Session 2006-2007: Report by the Comptroller and Auditor General
Author:

National Audit Office (NAO)

Publisher:

TSO (The Stationery Office)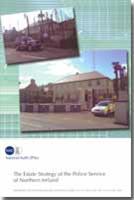 Add to Basket
This report, 'The Estate Strategy of the Police Service of Northern Ireland (HC 101)', looks at the plans of the Police Service of Northern Ireland (PSNI), to modernise and rationalise its estate. The NAO sets out a number of recommendations, including:
that the PSNI should establish a clear view of future requirements under its revised command structure, with a timetable of costed plans;

take forward plans to rationalise its headquarters and support sites, and prepare individual strategies for its largest sites;

in planning the rationalisation programme, a clear timetable should be prepared for its review of stations and referral to the Policing Board; and

with the disposal of stations, the PSNI should further set out plans to improve conveyancing.
The NAO recommends that the PSNI should work to minimise design changes in the development of project management, along with consulting all stakeholders to prevent delays and later design changes. Further, when monitoring the performance of these projects, the PSNI needs to build external benchmarking against other police forces, seek reviews of estate users and establish a performance management framework to support day-to-day management of the estate.


Show all Subjects & Categories