HM Revenue and Customs: Filing of Income Tax Self Assessment Returns
HC 73, Session 2005-2006: Report by the Comptroller and Auditor General
Author:

National Audit Office (NAO)

Publisher:

TSO (The Stationery Office)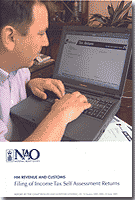 Add to Basket
This report, 'Filing of Income Tax Self Assessment Returns', looks at the filing of income tax self assessment returns. It finds that HM Revenue and Customs has stemmed the fall in the percentage of people filing their tax returns by the deadline, so that just over 90 per cent file their returns by the end of January each year. However, an estimated £1.1 billion of income tax was outstanding from 1.1 million overdue tax returns at July 2004.
The report looks at ways in which the Department is aiming to increase the percentage of returns filed on time to 93 per cent by January 2008.
It also looks at ways in which the Department is aiming to simplify tax self assessment returns and the steps the Department is taking to improve its accuracy in processing the returns. It concludes that these changes should ease the burden for many taxpayers in completing their returns and reduce costs for the Department.
This report will be of particular interest to individuals who pay their income tax through self-assessment and tax professionals.
Find similar publications here: