Introducing a Statutory Register of Lobbyists
Cm. 8233
Author:

Cabinet Office

Publisher:

TSO (The Stationery Office)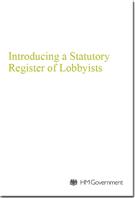 Add to Basket
'Introducing a Statutory Register of Lobbyists (Cm. 8233)' is a Government consultation paper that asks a number of specific questions whose answers will help inform the drafting of the legislation that will be brought in.
The aim is to increase the information available about lobbyists without unduly restricting lobbyists' freedom and ability to represent the views of the businesses, groups, charities and other individuals and organisations they represent or to deter members of the public from getting involved in policy making.
The key questions are:
on the definition of lobbying and lobbyists;

who should or should not be required to register;

what information should be provided in the register;

how often should the register be updated;

what sanctions might be appropriate; and

who should run the register?
Find similar publications here: