A New Approach to Child Poverty: Tackling the Causes of Disadvantage and Transforming Families' Lives
Cm. 8061
Author:

Department for Work and Pensions (DWP) / Department for Education (DfE)

Publisher:

TSO (The Stationery Office)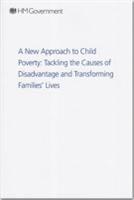 Add to Basket
'A New Approach to Child Poverty: Tackling the Causes of Disadvantage and Transforming Families' Lives (Cm. 8061)' is the Government's first national Child Poverty Strategy, setting out a new approach to tackle poverty up to 2020.
The strategy is based on:
strengthening families;

encouraging responsibility;

promoting work;

guaranteeing fairness; and

providing support for the most vulnerable.
The report is made up of five chapters:
The first chapter outlines the scale and structure of the problem and identifies principles for a more effective strategy.

Chapter two describes means to support families to achieve financial independence.

The importance of going beyond the measurement of income is the subject of chapter three, supporting family life and children's life chances. This examines the family, home environment, housing, early years, education and health, and outlines measures to enable early targeted support for children and families. The importance of educational progress and the role played by the NHS and other services in improving health outcomes is stressed.

Chapter four acknowledges that children's experience of poverty varies by community, and the solutions need to be tailored accordingly. It sets out the planned reforms and localism policies that relate to child poverty, and describes how local partners can contribute in this area.

The final chapter recaps the aims, approaches and key policies, and sets out the measurement approach.
A new set of indicators will include the income targets set out in the Child Poverty Act 2010, but will introduce new life chance indicators taking account of Frank Field's recommendations (listed below) and those in Dame Clare Tickell's review of the Early Years Foundation Stage.

Find similar publications here:

Show all Subjects & Categories