Pathways to Work: Helping People into Employment
Cm. 5690
Author:

Department for Work and Pensions (DWP)

Publisher:

TSO (The Stationery Office)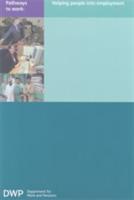 Add to Basket
This Green Paper sets out the Government's proposals to encourage people claiming incapacity benefit (IB) to move back into employment. It describes the basis of the Government's 'Welfare to Work Strategy' and explores reasons for the increase in numbers of IB claimants.
The consultation document details the key features of the new system which the Government proposes to pilot from October 2003, including:
more skilled adviser support combined with action planning during the early stages of a claim;

new work-focused rehabilitation programmes to be offered jointly by Jobcentre Plus and local NHS providers; and

a new return to work payment for those moving from IB into work.
It also explains the role of GPs and other healthcare professionals, employers, trade unions and the insurance industry in helping to keep people with health problems in the labour market.
Responses are invited by 10 February 2003.
Find similar publications here: