United States Pharmacopeia and National Formulary
Online
Author:

United States Pharmacopeia (USP)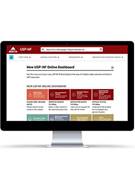 Add to Basket
The USP - NF is a combination of two compendia, the United States Pharmacopeia (USP) and the National Formulary (NF). It contains standards for medicines, dosage forms, drug substances, excipients, biologics, compounded preparations, medical devices, dietary supplements, and other therapeutics.
The current version of USP - NF standards deemed official by USP are enforceable by the U.S. Food and Drug Administration for medicines manufactured and marketed in the United States. The USP 42 - NF 37 (USP-NF 2020) releases 1st November 2019 and becomes official 1st May 2020.
Key features:
More than 4,900 monographs with specifications for identity, strength, quality, purity, packaging, and labeling for substances and dosage forms;

More than 350 general chapters providing clear, step - by - step guidance for assays, tests, and procedures;

Focus - specific charts and a combined index help you find the information you need;

Helpful sections on reagents, indicators, and solutions, plus reference tables; and

Includes General Chapter <800> Hazardous Drugs - Handling in Healthcare Settings.
Provides access to all updates posted online during the 12 months after subscription start date. Online features include enhanced search capabilities, ability to set alerts and bookmark pages, and a new history tab to quickly access all available versions of a document. Content is updated monthly with Accelerated Revisions, including Revision Bulletins and Errata, making USP–NF Online a one stop shop for all content. The USP–NF Online subscription is based on 12 months and can be purchased for 1 or more licenses. 1 Licence provides 20 seats/individual users with a single concurrency.
Extent
N/A
Sub. No.
7701011
Size
N/A
Price

£Not known

Format
Online Subscription
Availability

Available to order