Educating Service Children
HC 1054, Eleventh Report of Session 2005-06
Author:

House of Commons Defence Committee

Publisher:

TSO (The Stationery Office)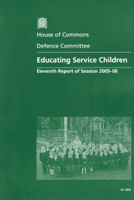 Add to Basket
Frequent moves are a feature of Service life, and mobility can have a detrimental impact on children's emotional well-being and their educational attainment. The Committee's report, 'Educating Service Children (HC 1054)', examines issues relating to the education of the children of armed forces service personnel, including Service schools overseas and the performance of the Ministry of Defence's agency - Service Children's Education (SCE) - which is responsible for providing these schools, as well as issues affecting Service children in UK state-maintained and independent sector day and boarding schools.
The Committee concludes that Service personnel deserve assurance that their children's education will not suffer because of their parent's employment and expresses its doubts that the DfES and the MoD currently take the interests of Service children sufficiently into account. Findings include:
the need for better co-ordination between the MoD, the DfES and the devolved administrations to ensure continuity of education for children moving between different parts of the UK;

the DfES needs to undertake work to determine how many Service children are in UK schools and the system for transferring student records between schools needs to be improved, particularly for Service children with special needs; and

the MoD should increase the provision of telephones and internet access for Service personnel on operations so that they can communicate with their children.
Find similar publications here: