The Future of the UK's Strategic Nuclear Deterrent: The Strategic Context
HC 986, Eighth Report of Session 2005-06, Report Together with Formal Minutes, Oral and Written Evidence
Author:

House of Commons Defence Committee, Rt Hon James Arbuthnot (Chairman)

Publisher:

TSO (The Stationery Office)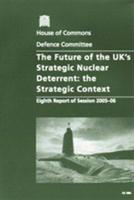 Add to Basket
The UK's strategic nuclear deterrent is based on the Trident weapons system, which was introduced into service in 1994 and has a projected life span of up to 30 years. Given the lengthy procurement process involved in large-scale defence equipment projects, the Government has announced that a decision about the future of the UK's nuclear deterrent is likely to be required by the end of the current parliamentary session.
In order to inform public debate on this subject, the Committee's report focuses on:
The strategic context and timetable for decision-making, including the nature of the UK's current deterrent and how it compares to the defence capability of other established nuclear powers

Current and future threats

Issues of operational independence and potential dependencies on the US

The implications for the UK's international influence and status

The timetable within which these decisions will have to be taken and implemented
The Committee notes its disappointment at the refusal of the Ministry of Defence (MoD) to participate in its inquiry, and calls on the MoD to make a substantive response to the report in order to address openly the issues involved.