Ministerial accountability and Parliamentary questions: fifth report of session 2004-05. Vol. 1: Report, together with formal minutes and appendices.
House of Commons papers 2004-05 449-I
Corporate Author:

Great Britain Parliament House of Commons Public Administration Select Committee

Author:

Wright Tony chairman

Publisher:

TSO (The Stationery Office)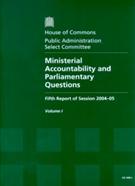 Add to Basket
This is the seventh report on Ministerial Accountability and Parliamentary Questions and the last that covers the workings of the Code of Practice on Access to Government Information, as in January 2005 this Code was superseded by the Freedom of Information Act. Amongst its conclusions are a concerned that departments have failed to honour fully their undertaking to provide specific Code exemption when they failed to give answers on public interest grounds. The Committee will monitor the effect of the Freedom of Information Act but believes that Cabinet Office guidance is inconsistent with earlier practice and should be reconsidered. The Committee also recommend that there should be an annual report of departmental performance on named-day questions and they strongly deplore and attempt to use the new arrangements of dealing with Questions before Prorogation as a means of avoiding answering a Question.
Find similar publications here: