Cash Machine Charges - Report, Together with Formal Minutes, Oral and Written Evidence
HC 191, Fifth Report of Session 2004-05
Author:

House of Commons - Treasury Committee

Publisher:

TSO (The Stationery Office)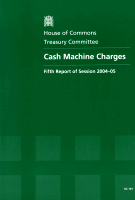 Add to Basket
About one third of ATMs now make direct charges to consumers. In 2004 it is estimated that UK consumers paid £140 million in charges whilst accessing funds through cash machines.
The Committee's report examines:
the principle and increasing trend towards charging

the clarity of presentation of these charges to the consumer

the likely impact on financial exclusion and low-income households

key areas for action from government, regulators and the industry
Findings include that although there has been an increase in free machines as well as charging machines, their location and the lack of transparency about which machines make charges hinders genuine competition and consumer choice.
Recommendations include that there should be a clearer indication of the amount of surcharge on external signage with standardised labelling for all free and charging machines. The LINK network agreement needs to improve consumer representation and its enforcement mechanisms. The trend towards ATM charges should not be allowed to exacerbate existing financial exclusion, and the Government should ensure that the switch to direct payment of benefits does not disadvantage recipients in their access to cash.
Find similar publications here: