Choice, voice and public services: fourth report session 2004-05Vol. 1: Report, together with formal minutes.
House of Commons papers 2004-05 49-I
Corporate Author:

Great Britain Parliament House of Commons Public Administration Select Committee

Author:

Wright Tony chairman

Publisher:

TSO (The Stationery Office)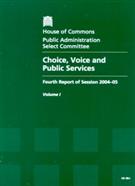 Add to Basket
The Committee's report assesses the effectiveness of the Government's plans for public service reform which are designed to enable greater choice and public participation in service provision, particularly in relation to health care, education and social housing. It draws on the findings of qualitative and quantitative research undertaken by the NAO in Birmingham on the operation of choice-based policies and public attitudes. Findings include that, although the Committee supports the Government's ambition for responsive user-focused public services, there is still some way to go to ensure mechanisms deliver, particularly for the less articulate and more vulnerable members of the public. Although a number of pilots, particularly in the health service, have shown encouraging results, it is still to early to say whether choice, especially in service provider, will deliver the expected benefits of greater efficiency, higher performance standards and better performance. Rhetoric about choice can exceed its reality, and often create unnecessary disappointment and confusion. Research suggests that, while choice matters to people, it is often not their highest priority in relation to public services.
Find similar publications here: