Future capabilities: fourth reportVol. 1: Report, together with formal minutes.
House of Commons papers 2004-05 45-I
Corporate Author:

Great Britain Parliament House of Commons Defence Committee

Author:

George Bruce chairman

Publisher:

TSO (The Stationery Office)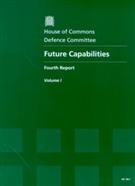 Add to Basket
Following on from the Government's defence White Paper ('Delivering Security in a Changing World', Cm 6041-I, ISBN 0101604122, published in December 2003), it published its five-year plan for the restructuring of the UK's armed forces ('Delivering security in a changing world: future capabilities', Cm 6269, ISBN 0101626924) in July 2004, in order to implement the revised capability requirements identified in terms of force structure, equipment and personnel. The emphasis was placed on using technology to secure maximum military effect, in light of the changed security environment after the September 11th terrorist attacks. The Committee's report examines these proposals and the practical decisions arising from the policy analysis, and topics discussed include: revised scales of effort and concurrency assumptions; the financial context; implications of key proposals for the army, navy and air force; network enabled capability (NEC), support and logistics; operations undertaken with US and European allies, and the roles of NATO and the UN. The Committee's findings include that the proposals are based on a narrow vision of future operational requirements, and it will take another decade before the capabilities are in place to deliver those requirements. In the meantime, the equipment withdrawls and personnel reductions being implemented to deliver those requirements risk gaps in capability arising which may lead to unnecessary security risks.