Duty of Care: Report, Together with Formal Minutes
HC 63-I, Third Report of Session 2004-05 - Volume I
Author:

House of Commons - Defence Committee

Publisher:

TSO (The Stationery Office)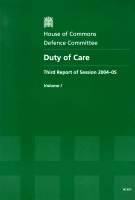 Add to Basket
The Committee's report examines the way in which the Ministry of Defence and the Armed Forces have managed their duty of care responsibilities in relation to those recruits undertaking initial training programmes, focusing in particular on the army. The inquiry was prompted by the deaths of four young soldiers between 1995 and 2002 at the Deepcut Barracks in Surrey and the police investigations that followed.However, the report does not focus on the circumstances surrounding individual deaths, but rather seeks to draw general conclusions about the working of the duty of care regime and make 121 recommendations for improvements.
Key issues discussed include:
The recruitment process and the structure of initial training

Duty of care information and structures

Empowered officers

Medical services

Access to welfare staff

Supervision, selection and training of instructors

Accommodation and facilities

Bullying and harassment

Army training culture

Suicide and self-harm

Investigations and boards of inquiry

Treatment of bereaved families

External assurance
The report continues to recommend the creation of an independent military complaints commission to investigate claims of bullying and harassment: its judgements having binding authority.
Other recommendations include how the Ministry of Defence could examine the impact of raising the minimum recruitment age from 16 to 18 years, ensuring that under 18s are only placed in training environments and accommodation suitable for their age.