Tri-Service Armed Forces Bill
HC 64, Second Report of Session 2004-05
Author:

House of Commons - Defence Committee

Publisher:

TSO (The Stationery Office)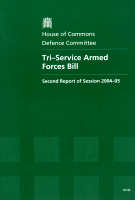 Add to Basket
The Committee's report examines the main policy proposals made by the Government to replace the three separate Service Discipline Acts for the armed forces with a single Tri-Service Act (TSA): a Bill planned for introduction into Parliament during Session 2005-06.
Key features:
Examines the case for a single Act; proposing a single system of Service law, including disciplinary measures and court martial, human rights issues, redress of complaints and Boards of Inquiry.

Findings reflect broad support for proposed changes to the current court martial system, including the creation of a standing court and a single prosecuting authority, although more work is needed on the detailed provisions.

The Committee disagrees with the Ministry of Defence position, regarding the attendance of next of kin at Boards of Inquiry, arguing that there should be a presumption in favour of their attendance.

To ensure sufficient provision for parliamentary scrutiny of the Bill, the Committee also recommends the need for a select committee and a standing committee stage examination of the Bill.