Credit card charges and marketing: second report of session 2004-05 report, together with formal minutes, oral and written evidence.
House of Commons papers 2004-05 274
Corporate Author:

Great Britain Parliament House of Commons Treasury Committee

Author:

McFall John chairman

Publisher:

TSO (The Stationery Office)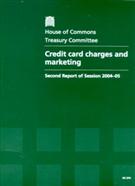 Add to Basket
Following on from the Committee's earlier report on the lack of transparency in credit card charges and marketing practices (HCP 125-I, session 2003-04; ISBN 0215014472) published in December 2003, this report assesses the subsequent progress made by credit card issuers to establish a fairer deal for consumers. It finds that there has been a positive response from the industry on some areas, such as improving clarity of information on statements and the introduction of a single method of calculation for annual percentage rates (APRs). Support is also given for the actions by the DTI and the OFT to improve regulation of marketing and charging practices for credit and store cards. However, more needs to be done in a number of areas including greater transparency about use of penalty charges, ending the practice of issuing unsolicited credit card cheques, greater data-sharing between lenders, and investigation by the FSA about the marketing of payment protection insurance.
Find similar publications here: