Government Support for Beagle 2
HC 711, Session 2003-2004
Author:

Great Britain Parliament House of Commons Science and Technology Committee

Publisher:

TSO (The Stationery Office)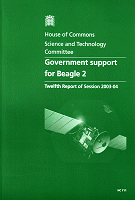 Add to Basket
The focus of this inquiry, by the Science and Technology Committee, was the support by the UK Government for the Beagle 2 project developed as part of the European Space Agency's (ESA) Mars Express mission.
The Committee found the Government showed enthusiasm for this project, but was unable to provide a guaranteed financial backing for the development of a lander, resulting in a failure to secure sufficient sponsorship income, which was subsequently seen to have a detrimental impact on the project's success. The Committee feels, that Government needs to put in place a system that can deal with major financial commitments at short notice.
In hindsight, the development of the lander and orbiter separately is seen as wrong, impeding the flexible co-ordination of the mission, leading to tensions between the Beagle 2 consortium, ESA and other contractors. Further, there was a lack of co-ordinated oversight between these three groups, and therefore a failure to identify important weaknesses in the mission.
Despite the failure of Beagle, the Committee does see some positive potential for future projects, both in scientific and educational benefits, but that the costs of such projects would benefit from greater participation by other organisations.
Find similar publications here: