Research assessment exercise: a re-assessment: eleventh report of session 2003-04 report, together with formal minutes of evidence, oral and written evidence.
House of Commons papers 2003-04 586
Corporate Author:

Great Britain Parliament House of Commons Science and Technology Committee

Author:

Gibson Ian chairman

Publisher:

TSO (The Stationery Office)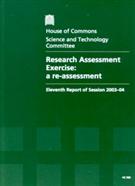 Add to Basket
The Research Assessment Exercise (RAE) is a periodic assessment of the volume and quality of research being undertaken in the UK higher education sector. Following on the Committee's previous report on the RAE published in April 2002 (2nd report, HCP 507, session 2001-02; ISBN 0215002911), this inquiry has been undertaken in light of the Sir Gareth Robert's review of the RAE in May 2003, and the subsequent decisions announced in February 2004 by the Higher Education Funding Councils for the next RAE to be held in 2008. Conclusions and recommendations are also made under the headings of future assessment and timing, funding decisions and their impact, the dual support system and higher education funding.
Find similar publications here: