Restoring confidence in long-term savings, Volume 1
HCP 71-I, 8th Report of Session 2003-04
Author:

Great Britain Parliament House of Commons Treasury Committee

Publisher:

TSO (The Stationery Office)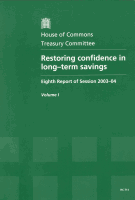 Add to Basket
The long-term savings market is worth £1,900 billion-plus and its efficient working is vital for the prosperity of both savers and the wider economy. It is widely accepted that there is now a damaging lack of consumer confidence in long-term savings.
Providing savers with clear, succinct information would reduce the risk of mis-selling. A closer linkage between the investment returns for customers and executive remuneration may be beneficial.
The current low level of consumer confidence in long-term savings largely reflects the weak regulatory framework and industry practices prior to the arrival of the FSA. Recent moves to simplify aspects of the tax regime for pensions are welcome but there is substantial scope for improving the coherence of the present complex tax regime in promoting savings.
Find similar publications here: