Defence white paper 2003: fifth report of session 2003-04. Vol. 1: Report, together with formal minutes.
House of Commons papers 2003-04 465-I
Corporate Author:

Great Britain Parliament House of Commons Defence Committee

Author:

George Bruce chairman

Publisher:

TSO (The Stationery Office)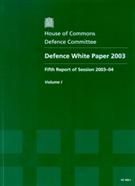 Add to Basket
This report examines the likely effects on the armed forces of the Defence White Paper: Delivering Security in a Changing World, (Cm 6041-I, ISBN 0101604122). This is hampered by the absence of detailed information on force structures, costs and equipment and so the Committee will have to return to the topic in the future. However the Committee believe that the security challenges facing the UK require the retention of the existing scale of forces and a policy of reducing or restructuring existing forces in advance of acquiring new capabilities is potentially dangerous. They also think that the White Papers conclusions appear to have been based more on what UK forces have done in the recent past, rather than an assessment of future demands, and it is not clear whether the plan has been effects led or resource driven. Another worry is that there could be a profound change in the relationship between the Armed Forces and political decision makers.