Restoring Confidence in Long-term Savings: Endowment Mortgages
HCP 394, Fifth Report of Session 2003-04, Together with Formal Minutes
Author:

Great Britain Parliament House of Commons Treasury Committee

Publisher:

TSO (The Stationery Office)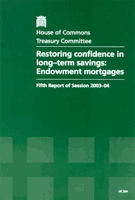 Add to Basket
Low-cost endowment mortgages represented over 80 per cent of the mortgage market at their peak in the 1980 and 1990s and there are still around 8.5 million policies in force. These mortgages carry with them the risk that the endowment policy might not repay the mortgage.
Declining inflation and interest rates made it likely that actual investment returns would be much lower than originally assumed. The actuarial process within insurance companies must be urgently reformed. The industry was slow to respond to pressure. Firms have been fined £5.2 million by the FSA to date and over £670 million has been paid out in compensation.
Inappropriate sales practices are rewarded by the current commission structure. The industry failed to cut back its equity exposure as share prices increased and was caught out by the recent fall in equity markets. There has been a switch to low risk, low growth portfolios dominated by bonds; and there is likely to be a shortfall on around 80 per cent of endowment policies, with an average shortfall of £5,500.
Adequate information was not provided early enough, which has considerably added to investors' problems. Letters to investors should be clearer and reliable advice should be provided at a low cost. There is a widespread entitlement to compensation but few policy holders (6 per cent) have made claims. The complaints procedure should be simplified, time limits should be extended and complaints should be handled more fairly.
Overall. the public's trust in the industry has been damaged and needs to be rebuilt.
Find similar publications here: