Energy Efficiency - Volume I: Report
HL 21-I, 2nd Report of Session 2005-06
Author:

House of Lords - Science and Technology Committee

Publisher:

TSO (The Stationery Office)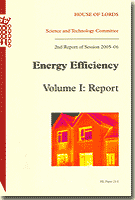 Add to Basket
The Committee's report examines the contribution that energy efficiency can make towards achieving the Government's objective to reduce carbon dioxide emissions by 20 per cent by 2010, as set out in the Energy White Paper (Cm 5761, available below) published in February 2003.
The report examines in detail the practical measures designed to achieve this objective, as outlined in the Government's Energy Efficiency Action Plan (Cm 6168, available below) published in April 2004. It focuses on the contribution of business and industry, which represents almost a third of total emissions, and of households, which represents almost one quarter (it does not examine the contribution of the transport sector or consider renewable energy issues in detail, as these have been covered in other Select Committee reports).
Amongst its findings, the Committee argues that the main objective of energy efficiency should be the reduction of the UK's absolute energy consumption, leading to lower emissions, and proposes a methodology to measure progress towards this objective.
Other issues highlighted include:
the enormous wastefulness of the electricity generating industry;

the need for greater Government clarity and leadership in promoting energy efficiency;

and better public education about energy use and its economic and environmental costs.

Find similar publications here:

Show all Subjects & Categories