Draft Gambling Bill
HLP 63-1/HCP 139
Author:

Great Britain Parliament Joint Committee on the Draft Gambling Bill

Publisher:

TSO (The Stationery Office)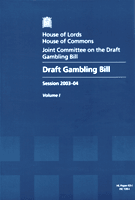 Add to Basket
This report comments in detail on the draft Gambling Bill which was published in November 2003 as Cm 6014-I (ISBN 0101601425). It is essential that the Gambling Commission has adequate resources to carry out its diverse functions.
Spread betting should be subject to regular review every five years or so. Despite its deficiencies, the National Lottery Commission should carry on as the regulator for the National Lottery after the Gambling Commission is set up.
The costs of regulation should be borne by those that are regulated and fee levels should be subject to consultation. Premises licensing should ultimately be a matter for licensing authorities, subject to adequate financing, and training. Local authorities should retain the power to prevent proliferation of gambling premises.
The research carried out by the Responsibility in Gambling Trust on 'problem gambling', is commended, and voluntary contributions from the industry to the Trust should be encouraged. Machine gambling by under-18s - and gambling advertisements - should remain under review. The Committee agrees with the proposed 3:1 gaming machine to table ratio in small casinos, but a greater ratio should be considered for larger 'resort casinos' (which should also be required to provide additional leisure and cultural facilities).

Show all Subjects & Categories