Justice for All - A White Paper on the Criminal Justice System
CM 5563
Author:

Great Britain Home Office, Great Britain Lord Chancellors Department, Great Britain Law Officers Department

Publisher:

TSO (The Stationery Office)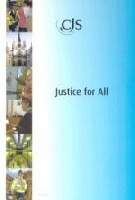 Add to Basket
This White Paper presents an extensive set of proposals for reform of the criminal justice system in England and Wales, with the stated aim to rebalance the system in favour of victims, witnesses and communities so as to reduce crime and bring more offenders to justice.
The paper introduces a range of new sentencing options with custodial sentences focused on dangerous, serious or repeat offenders and a greater emphasis upon rehabilitation. These include a 'custody plus' sentence to ensure prisoners on short sentences are properly supervised and supported after release, and a 'custody minus' sentence involving community supervision backed by an automatic return to custody if the offender fails to comply with the conditions laid down. Intermittent custodial sentences will use weekend or night-time custody to enable low risk offenders to continue working; whilst community sentences will include greater use of tagging, drug treatment and reparation conditions.
Other proposals include:
To allow defendants the right to be tried by judge alone in the Crown Court.

Removing the 'double jeopardy' rule (which prevents suspects being tried for the same offence twice) for serious cases if compelling new evidence is brought to light.

Changes to the system of plea-bargaining to encourage early guilty pleas.

To allow the use of reported evidence or 'hearsay' in court where there is good reason.

The court can be informed of a defendant's previous convictions where relevant.

To allow trial by judge alone in serious and complex fraud trials or trials where the jury is at risk of intimidation.

The extension of Magistrates' sentencing powers from 6 to 12 months.

Find similar publications here:

Show all Subjects & Categories