European Agreement Concerning the International Carriage of Dangerous Goods by Road
(ADR) and Protocol of Signature done at Geneva on 30 September 1957, Vol. I and II (Restructured ADR, as applicable as of 1 July 2001)
Author:

United Nations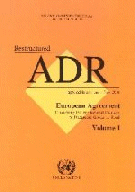 Add to Basket
This edition comprises the Restructured Agreement, applicable as of 1st July 2001. The ADR is a fully constraining agreement aimed at ensuring the safety of international transport by road, sea and air. It also deals with the conditions of transport of dangerous goods including dangerous wastes.
In 2000 the system of classifications, provisions and requirements was restructured and the new regulations contained within this new edition detail the following changes in detail:
The new ADR reflects the harmonization of Rail (RID), Land and Sea codifications in the area of the transport of dangerous goods.

The marginal numbering system is changed. Instead the documentation is classified by subject related chapters. This means that regulations, prescriptions and/or exceptions are grouped under the same heading.
This new edition includes all amendments to Annexes A and B which should enter into force on 1 July 2001. These annexes have been rearranged in nine parts, Parts 1 to 7 forming Annex A and Parts 8 and 9 forming Annex B, as follows:
Part 1: General provisions

Part 2: Classification

Part 3: Dangerous Goods List and Limited quantities exemptions

Part 4: Packing and tank provisions

Part 5: Consignment procedures

Part 6: Construction and testing of packagings, intermediate bulk containers and tanks

Part 7: Conditions of carriage, loading, unloading and handling

Part 8: Vehicles crew, equipment, operation and documentation

Part 9: Construction and approval of vehicles
Key Features:
This edition includes all amendments entering in force on 1 January 1999

The new edition will enter into force on 1st July 2001

Previous ISBN 011941712X, £95.00, October 1998
Find similar publications here: