Societal Security. Business Continuity Management Systems. Requirements
BS EN ISO 22301:2014
Author:

British Standards Institute (BSI)

Publisher:

BSI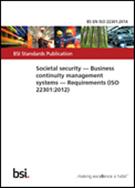 Add to Basket
This standard gives your organization access to the requirements of a BCMS that will enable your organization to prepare for disruptive incidents that might otherwise prevent it from achieving its objectives.
It can be used to assess an organization's ability to meet its own continuity needs and obligations and establish a business continuity management policy that provides a framework for implementing effective business continuity arrangements.
In common with other management systems' standards, it is based on the 'Plan-Do-Check-Act' model that seeks to improve continually the effectiveness of the organization through proficient planning, implementation, supervision, review and maintenance.
Find similar publications here: