Code of Practice for Customer Service
BS 8477:2014
Author:

BSI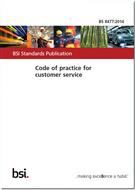 Add to Basket
Meeting or exceeding customer expectations is one of the most important contributing factors in the running of a successful organization in any sector.
BS 8477 provides a means by which an organization can judge itself and can be judged by its customers. It provides clearly identifiable and verifiable benchmarks for good practice. It does not, therefore, deal in detail with some of the vital "softer" aspects of customer satisfaction that are less susceptible to this approach.
The on-going success and development of an organization not only relies on providing reliable good services to the traditional external customer, but also on the need for all organizations to understand the expectation levels and perception of their customers.
Many of the recommendations made in this British Standard are already commonplace in organizations that have a responsive customer service culture.
However, where this is not the case the application of this British Standard allows organizations to:
set in place mechanisms to ensure levels of customer service that at least meet the needs and reasonable expectations of customers;

be competitive in the marketplace;

differentiate their services from competitors through providing and maintaining innovative customer services;

increase customers' positive emotional experience with an organization's services and, through this, building and maintaining customer loyalty;

increase customer retention;

attract new customers through positive word of mouth;

reduce marketing costs;

increase service efficiency;

reduce problem incidence rates, and therefore reduce time and cost involved in correcting problems experienced by customers and associated complaints that might need to be handled;

maintain and improve services and accountability for public sector service organizations;

create an organization-wide customer-focused approach to developing and maintaining quality services;

improve the ability of customers to deal with an organization. Customer service culture involves being proactive by anticipating or exceeding customer needs; implementation of this British Standard might for many organizations be the first step in embedding this principle in all aspects of their business and operations.
Find similar publications here: