Workplace First Aid Kits - Part 1: Specification For The Contents Of Workplace First Aid Kits
BS 8599-1:2011
Author:

BSI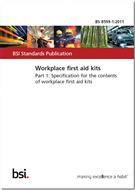 Add to Basket
BS 8599-1 is the standard that sets the minimum level that first aid kits should conform to. BS 8599 is written so that manufacturers of kits and anyone that assembles workplace first aid kits is producing them to the specific minimum requirements.
Requirements are also given for the container holding the components.
Workplace first aid kits can be complemented by other items that have been identified during a risk assessment if necessary. Where there are unusual hazards that are specific to a particular undertaking or workplace environment, such as the use of hydrofluoric acid, workplace first aid kits should be supplemented with additional, appropriate components.
The standard also gives recommendations on the amount and size of the first aid kits necessary for different workplace environments based on the category of risk and the number of employees at the workplace.
Requirements are also given concerning marking and information to be supplied by manufacturers.
Find similar publications here: