Information Technology - Security Techniques - Guidelines For Information And Communication Technology Readiness For Business Continuity
BS ISO/IEC 27031:2011
Author:

British Standards Institute (BSI)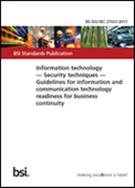 Add to Basket
BS ISO/IEC 27031 gives best-practice guidelines for information and communication technology (ICT) to ensure business continuity.
Since most processes in an organization depend on ICT, disruptions to these systems can lead to huge risks and damage the company's reputation. Security breaches, such as system intrusions or malware infections, are two examples of inefficient ICT that can have a serious impact on business-critical functions.
By incorporating these guidelines, organizations can improve their management operations, planning processes, data processing and data transmission, while keeping critical documents safe.
Find similar publications here: