Respiratory Protective Devices For Use Against Chemical, Biological, Radiological And Nuclear (CBRN) Agents - Part 4: Powered Air Purifying Respirators - Specification
BS 8468-4:2008
Author:

BSI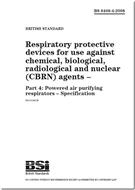 Add to Basket
BS 8468-4 applies to powered air-purifying respirators (PAPRs) intended to be used during, rescue, evacuation, escape, hazard containment and decontamination and similar activities.
PAPR are an air-purifying respiratory protective device that uses an electrically operated blower to force ambient atmosphere through air-purifying elements to the respiratory interface.
BS 8468-4 should be used by emergency responders (fire, ambulance, police, and associated civilian agencies and workers) in areas contaminated by chemical, biological, radiological and nuclear (CBRN) agents. It contains requirements for designation, classification, testing and marking of the device.
Find similar publications here: