Information Technology - Biometrics - Jurisdictional And Societal Considerations For Commercial Applications - Part 1: General Guidance
PD ISO/IEC TR 24714-1:2008
Author:

British Standards Institute (BSI)

Publisher:

BKN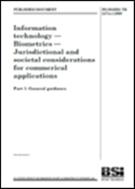 Add to Basket
PD ISO/IEC TR 24714-1 is a Technical Report (TR) that offers guidance on the design of systems that use biometric technologies to capture, process and record biometric information. It sets out the societal, cultural and ethical issues related to the use of biometrics in security systems for identifying people.
Specifically it addresses:
Legal and societal constraints on the use of biometric data;

Accessibility for the widest population; and

Health and safety, addressing the concerns of users regarding direct potential hazards as well as the possibility of the misuse of inferred data from biometric information.
PD ISO/IEC TR 24714-1 gives guidelines for the stages in the life cycle of a system's biometric and associated elements.
This covers the following:
Capture and design of initial requirements, including legal frameworks

Development and deployment

Operations, including enrolment and subsequent usage

Interrelationships with other systems

Related data storage and security of data

Data updates and maintenance

Training and awareness

System evaluation and audit

Controlled system expiration
Find similar publications here: