Hearing Protectors - Safety Requirements And Testing - Part 8: Entertainment Audio Ear-Muffs
BS EN 352-8:2008
Author:

BSI

Publisher:

LBK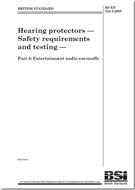 Add to Basket
BS EN 352-8 is about entertainment audio ear-muffs. It specifies constructional and design and performance requirements, methods of test, marking requirements and user information relating to the incorporation of the entertainment audio facility.
The requirements of BS EN 352-8 take account of the ergonomic interaction between the wearer, the device and, where possible, the working environment in which the device is likely to be used.
Entertainment audio ear-muffs are designed to provide not only sound attenuation to ambient sound but also to provide entertainment audio via built-in loudspeakers. The entertainment audio signal can be transmitted by radio (broadcast or local plant programmes) or by wire or other communication. The audio signal transmission is for entertainment and not for safety or work-related purposes.
BS EN 352-8 is a specification intended for type approval purposes, for which four sets of specimen ear-muffs are tested.
The requirements and tests of the standard are concerned primarily with the entertainment audio performance of the ear-muffs. BS EN 352-8 may be applied to ear-muffs for fitting to industrial safety helmets.
Find similar publications here: