Marking of electrical and electronic equipment in accordance with Article 11(2) of Directive 2002/96/EC (WEEE)
BS EN 50419:2006
Author:

BSI

Publisher:

RXD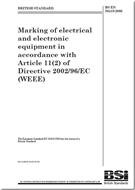 Add to Basket
BS EN 50419 contains the marking requirements needed to ensure compliance with WEEE Directive. These marking requirements are applicable to all manufacturers and producers of electrical and electronic equipment distributed within the EU.
BS EN 50419 contains additional information relating to the marking requirements, including positioning, visibility, dimensions, location and referenced documents.
This standard will also be of interest to distributors, importers and exporters of electrical and electronic equipment on a professional basis into EU Member States.
The marking serves to clearly identify the producer of the equipment and that the equipment has been put on the market after 13 August 2005.
Find similar publications here: