Inquiry Into Allegations, Arising From A BBC NI Spotlight Programme Aired On 3 July 2013, Of Impropriety Or Irregularity Relating To NIHE Managed Contracts And Consideration Of Any Resulting Actions
NIA 157/11-15, Seventh Report of Session 2011-15, Report, Together with Minutes of Proceedings, Minutes of Evidence and Written Submissions
Author:

Northern Ireland Assembly - Committee for Social Development

Publisher:

TSO (The Stationery Office)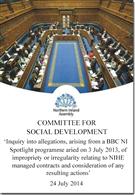 Add to Basket
In a BBC NI Spotlight programme, which aired on 3 July 2013, allegations were made of wrongful political interference in the Northern Ireland Housing Executive, potential breaches of the Ministerial Code of Conduct and misleading of the Assembly and the Committee for Social Development. The report 'Inquiry Into Allegations, Arising From A BBC NI Spotlight Programme Aired On 3 July 2013, Of Impropriety Or Irregularity Relating To NIHE Managed Contracts And Consideration Of Any Resulting Actions (NIA 157/11-15)' investigates those allegations.
The Housing Executive has committed to improving the thermal efficiency of Housing Executive stock and to ensure that all its properties are fully double glazed by March 2015. On 8 May 2012, the Minister announced that he was suspending the double glazing programme pending a rigorous review of the double glazing specification and until the new contract provision, to include any revised specifications, can be put in place.
The Committee asked the Minister to specify who had provided the advice which led to his decision to suspend the programme pending a review and to confirm on what basis the potential for significant savings had been made. In his response dated 24 May 2012, the Minister stated that his decision came about as a result of a meeting with representatives from the Glass and Glazing Federation and Fusion21 to discuss, 'The Good Practice Guide for the Installation of Windows and Doors'.
In the Spotlight programme it was alleged that the Committee was misled as the Minister had in fact met with representatives from Turkington Holdings Ltd, a company which the programme stated had links to the Democratic Unionist Party. By majority vote, the Committee found that the Minister for Social Development deliberately misled the Committee.
Find similar publications here: