NHS Waiting Times For Elective Care In England: Department Of Health
HC 964, Report by the Compotrller and Auditor General, Session 2013-14
Author:

National Audit Office (NAO)

Publisher:

TSO (The Stationery Office)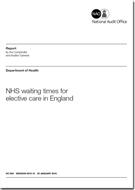 Add to Basket
The report 'NHS Waiting Times For Elective Care In England: Department Of Health (HC 964)' highlights the increasing challenge to the NHS of sustaining the 18-week waiting time standard for elective care, and the importance for Trusts of having reliable performance information and shared good practice.
Value for money is being undermined by the problems with the completeness, consistency and accuracy of patient waiting time data, and by inconsistencies in the way that patient referrals to hospitals are managed.
The NAO has identified inconsistencies in the way Trusts measure waiting time and errors in the waiting time recorded, and the report warns that waiting time figures which are published should be treated with a degree of caution. Although the rules for applying the waiting times standards are set at a national level, the performances of individual Trusts are not directly comparable owing to local variations in how and when each patient's waiting time 'clock' is started, paused or stopped.
Sample investigations found some errors and misrecording in various Trusts; but NHS England does not have sufficient assurance about how Trusts are performing. The system of checks that NHS England uses should spot some errors and inconsistencies, as well as discrepancies between Trusts' current and past reported performance. It will not however detect errors of the kind identified by the NAO without independent validation of Trusts' data.
The report recommends that NHS England should seek additional assurance, possibly through a regime of test checking.
Find similar publications here: