The Rural Broadband Programme: Department Of Culture, Media And Sport
HC 535, Report by the Comptroller and Auditor General, Session 2013-14
Author:

National Audit Office (NAO)

Publisher:

TSO (The Stationery Office)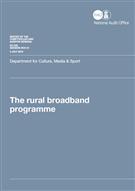 Add to Basket
The report 'The Rural Broadband Programme: Department Of Culture, Media And Sport (HC 535)' examines the progress of the Government's rural broadband programme, which it aims to deliver by December 2016.
The Department of Culture, Media and Sport (DCMS) designed the programme with three sets of safeguards intended to work together to achieve value for money. However, the competitive framework led to potential suppliers withdrawing from the bidding process. British Telecom (BT) was left as the only active participant in the framework and is likely to win all 44 local projects.
The DCMS has secured only limited transparency over the costs in BT's bids, but has been successful in securing in-life controls on value for money, such as only paying actual costs supported by invoices and ensuring that suppliers are paid only when they reach key milestones. However, achieving value for money for the programme will depend on the scrutiny of hundreds of thousands of invoices and follow-up analysis of take-up rates.
The project funding contributed by BT has so far been lower than originally modeled; the Department now expects the company to provide just 23% of the overall projected funding of £1.5 billion, some £207 million less than it modelled in 2011.
By the end of the programme, BT is likely to have benefited from £1.2 billion of public money.

Related titles:

Show all Subjects & Categories