The Franchising of Hinchingbrooke Health Care NHS Trust: Department of Health
HC 628, Report by the Comptroller and Auditor General, Session 2012-13
Author:

National Audit Office (NAO)

Publisher:

TSO (The Stationery Office)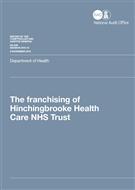 Add to Basket
Circle is the first private company to assume the management functions of an NHS Trust; 'The Franchising of Hinchingbrooke Health Care NHS Trust:Department of Health (HC 628)' examines how the NHS East of England Strategic Health Authority designed, initiated and managed the project to franchise Hinchingbrooke Health Care NHS Trust, highlighting the lessons that can be learnt.
The Trust developed a cumulative deficit of £39 million between 2004-05 and 2007-08, on an annual income of around £73 million.
This report finds that the Trust's performance against standards for cancer and accident and emergency waiting times has improved since the franchise began in February 2012. However, the Trust had generated an in-year deficit of £4.1 million by September 2012, which was £2.2 million higher than planned.
Circle plans to achieve £311 million in projected savings over the ten year life of the franchise, though most of the savings are expected to be made in the later years of the franchise.
The NAO found that although the Authority assessed the reasonableness of bidders' savings proposals, it did not fully consider the relative risks; however, the agreement transfers all demand and financial risk up to £5 million to Circle.
The report also found that the Authority rejected a guaranteed payment towards the Trust's cumulative deficit in favour of an ambitious bid that aimed to repay the debt in full. The cumulative debt stood at £38 million at the end of March 2012.

Related titles:
Find similar publications here:

Show all Subjects & Categories