The Introduction of the Work Programme: Department for Work and Pensions
HC 1701, Report by the Comptroller and Auditor General, Session 2010-12
Author:

National Audit Office (NAO)

Publisher:

TSO (The Stationery Office)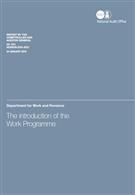 Add to Basket
'The Introduction of the Work Programme: Department for Work and Pensions (HC 1701)' examines how the speed with which the Programme was launched in just over a year, although has had some benefits, has also lead to some risks.
The Programme, which replaces virtually all of the existing 'welfare to work' schemes, has a number of innovative design features that address weaknesses in previous schemes. However, assumptions about the feasibility of the Programme might be over-optimistic.
The NAO's analysis suggests that 26% of the largest group of job seekers in the Programme will get jobs, compared to the Department's estimate of 40%. Some contractors in areas of high unemployment may struggle to meet nationally set targets. Alternatives to the Programme were not considered as part of the business case, nor was it piloted to test assumptions.
It has so far cost £63 million to terminate existing welfare to work contracts, including contracts with ten providers that went on to win contracts for the Programme. Two former contractors have not yet agreed settlements.
The IT project to support the Programme is not fully functional and the Department will not be able - until March 2012 at the earliest - to carry out automatic checks to confirm that people who find work have stopped claiming benefits.
Fewer clients than expected are being referred onto the Programme as part of the 'harder-to-help' category. Some have been found to be 'fit for work' and switched into other categories and it is taking the Department longer to process assessments and appeals.
Find similar publications here: