The Mortgage Rescue Scheme: Department for Communities and Local Government
HC 1030, Report by the Comptroller and Auditor General, Session 2010-12
Author:

National Audit Office (NAO)

Publisher:

TSO (The Stationery Office)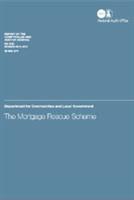 'The Mortgage Rescue Scheme: Department for Communities and Local Government (HC 1030)' examines the Mortgage Rescue Scheme's progress since it was launched in January 2009.
The National Audit Office (NAO) finds that the Department for Communities and Local Government, achieved fewer than half of the rescues expected.
The Department directly helped 2,600 households avoid repossession and homelessness at a cost of in excess of £240 million - but it originally expected to help 6,000 households for £205 million.
Under the Scheme, vulnerable homeowners at imminent risk of repossession who fulfil the eligibility criteria can apply to housing associations to provide them with an equity loan to help them reduce their monthly mortgage payments and retain ownership; or, alternatively, to purchase the home outright with the former owner remaining in the house as a tenant.
The Department misjudged what the levels of demand would be for the respective types of rescue. It thought that most households would choose to take an equity loan through the Scheme, the cheaper option for the taxpayer, but nearly all sold their houses and stayed on as tenants. As a result, the average cost of each completed rescue has been much higher than expected - £93,000, compared with £34,000.
The Department does not have enough information to say why so few households took the equity loan route. The Department now has actions in place to reduce the cost of the Scheme to the taxpayer.
The report concludes that the Department did not adequately test the assumptions underpinning the Scheme's business case, and that it could have acted earlier to improve value for money.
Find similar publications here: