The Cost-Effective Delivery of an Armoured Vehicle Capability: Ministry of Defence
HC 1029, Report by the Comptroller and Auditor General, Session 2010-12
Author:

National Audit Office (NAO)

Publisher:

TSO (The Stationery Office)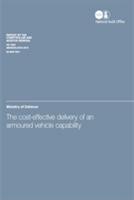 Add to Basket
'The Cost-effective Delivery of An Armoured Vehicle Capability: Ministry of Defence (HC 1029)' reports on the suspension and cancellation of a number of key armoured vehicle projects since the 1998 defence review. These stoppages have resulted in the Armed Forces facing a significant shortage in the principal armoured vehicles they require, until at least 2024-2025.
Despite the commitment of considerable resources, since 1998, the Ministry of Defence (MOD) has received only a fraction of the armoured vehicles it has set out to buy through its standard acquisition process.
The MOD's reluctance to compromise in setting technologically demanding requirements under its standard acquisition process has put the timely and cost-effective delivery of the equipment at risk. Unwieldy procurement processes have not coped well with rapid changes to equipment requirements in the light of operational experience, resulting in a number of armoured vehicle projects being delayed or abandoned.
Projects have also suffered from unstable budgets and continual changes to financial plans, with a cycle of unrealistic planning followed by cost overruns. Spending to date includes £321 million on cancelled or suspended projects and a further £397 million funding on-going, but delayed, projects.
To address shortfalls in equipment for current operations, such as in Afghanistan, the MOD has placed greater reliance on the Urgent Operational Requirements (UORs) since 2003, at an additional cost of £2.8 billion. This has been more successful and has significantly improved protection levels for UK forces against today's threats but it is not a sustainable substitute for the standard acquisition process.

Find similar publications here:

Show all Subjects & Categories