The National Programme for IT in the NHS: an Update on the Delivery of Detailed Care Records Systems: Department of Health
HC 888, Report by the Comptroller and Auditor General, Session 2010-12
Author:

National Audit Office (NAO)

Publisher:

TSO (The Stationery Office)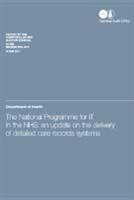 'The National Programme for IT in the NHS: an Update on the Delivery of Detailed Care Records Systems: Department of Health (HC 888)' reports that the rate at which electronic care records systems are being put in place across the National Health Service (NHS) under the National Programme for IT (information technology) is falling far below expectations and the core aim that every patient should have an electronic care record under the Programme will not now be achieved.
Even where systems have been delivered, they are not yet able to do everything that the Department of Health intended, especially in acute trusts. Moreover, the number of systems to be delivered through the Programme has been significantly reduced, without a commensurate reduction in the cost.
This report concludes that the £2.7 billion spent so far on care records systems does not represent value for money. And the NAO has no grounds for confidence that the remaining planned spending of £4.3 billion on care records systems will be any different.
The systems the Department contracted its suppliers - British Telecom (BT) and Computer Sciences Corporation (CSC) - to deliver by 2010 are now not all expected to be in place until 2015-16 and progress in delivering care records systems varies dramatically between regions.
In acute trusts, the systems are mainly providing administrative benefits, rather than the expected clinical ones, such as prescribing and administering drugs in hospitals.
The Department has now moved away from its intention to replace systems wholesale, instead, building on and using trusts' existing systems. To do this will cost at least £220 million to get the systems to work together.
Find similar publications here: