Managing High Value Capital Equipment in the NHS in England: Department of Health
HC 822, Report by the Comptroller and Auditor General
Author:

National Audit Office

Publisher:

TSO (The Stationery Office)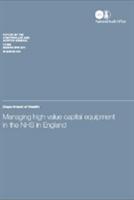 'Managing High Value Capital Equipment in the NHS in England: Department of Health (HC 822)' finds that value for money is not being achieved across all trusts in the planning, procurement and use of 'high value equipment', such as computerised tomography (CT), magnetic resonance imaging (MRI) scanners and Linear Accelerator Machines (linacs). 
Trusts are not collaborating to purchase machines and they are not getting the best prices. Around half of all CT and MRI scanners and linac machines are due for replacement within three years. Were trusts to replace existing machines, they would collectively need to find £460 million within three years.
The number of diagnostic scans carried out using CT and MRI machines has increased almost threefold and radiotherapy treatment sessions have increased two and a half fold over the last ten years.
Many trusts face resource constraints in meeting increasing demand, with vacancy rates for consultant radiologists of around 7% and one-third of trainee therapeutic radiographers leaving their course of study before they have qualified.
There is wide variation in utilisation rates of MRI and CT scanning machines. However, because there is no central collection of data, individual trusts cannot compare their utilisation rates and costs with other trusts in order to improve efficiency.
Trusts report their average costs per scan, but they do so differently. In 2008-09, the average cost per CT scan ranged from £54 to £268; and, for MRI, it was between £84 and £472 per scan.
However, for radiotherapy, the Department of Health (DH) has developed a dataset which will enable comparisons to be made about efficiency and utilisation between radiotherapy treatment centres.
Find similar publications here: